Quality coffee isn't a solo game. Detour is here to help!
At Detour, we're passionate about all things coffee and our wholesale customers are an integral link in the chain from seed to cup. With over 10 years of experience in the specialty coffee industry here in Canada, we're here to help with everything you'll need to create a quality coffee program and take your customer experience to the next level.

Whether you're looking for fresh, roasted bulk coffee to serve at your cafe, restaurant, or office, or looking for full service customer support to open your dream cafe, we have a wholesale coffee program that can help you. We offer competitive wholesale pricing and free shipping on all orders $400 or over.

If you are interested in joining the Detour family and building great coffee experiences together, we would love to learn more about your story. Use the contact form on this page to get in touch!

Already a partner? Log into your account here!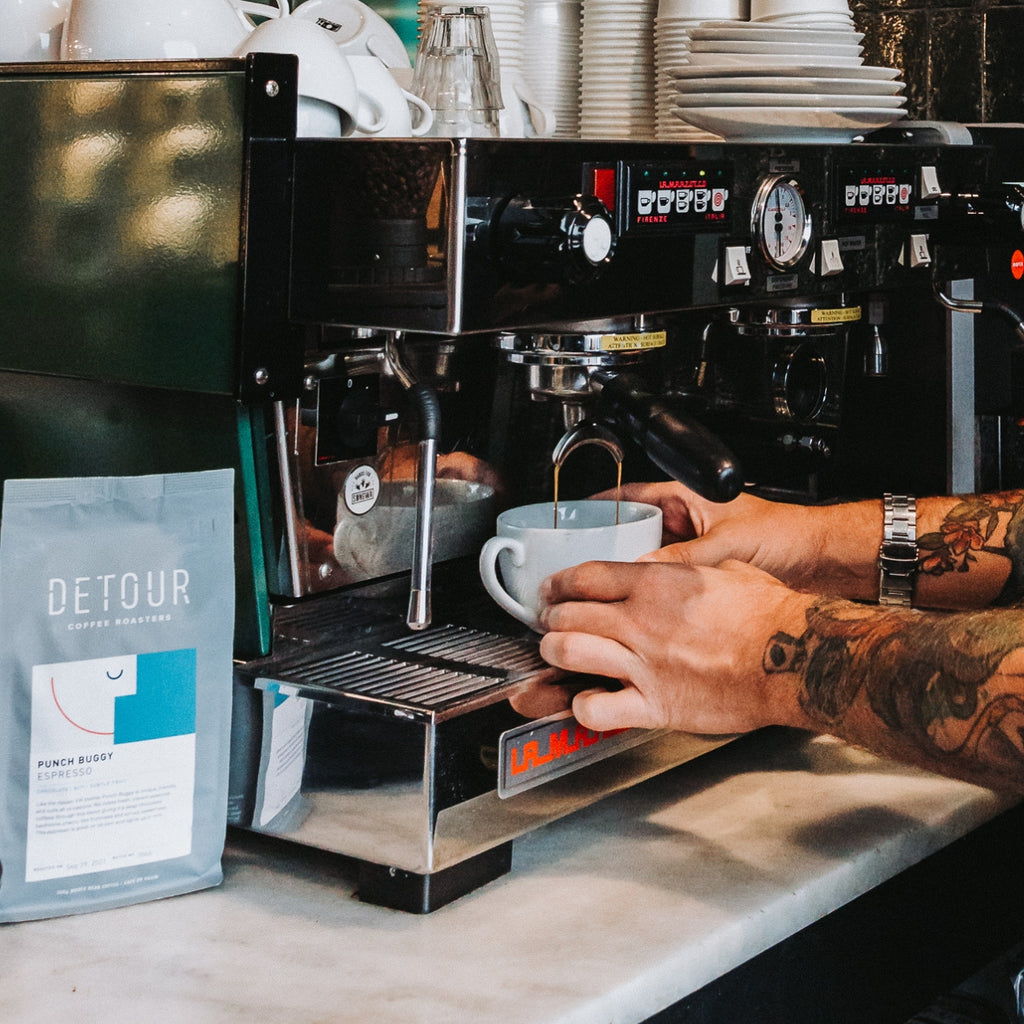 A few perks of our wholesale program
Quality Coffee
Whether you're looking for unique, seasonal single origins or dependable and classic blends, we have a roasted coffee for every situation. We source all our coffees seasonally through our relationships with partners at origin and roast them in small batches to order.
Free Training
We'll make sure your team has the training and skills they need to deliver the best possible experience to your customers. Our program includes extensive barista training for all of our wholesale partner accounts with courses that cover everything from brewing, to dialing in espresso, gear maintenance, and latte art.
Equipment Program
We can source all of the equipment you need to start brewing great coffee. We work with some of the leading suppliers of high-quality espresso machines, batch brewers, and grinders in the world and we can help you get the gear you need to get your coffee dialed in and tasting delicious.
Coffee Consultation
We offer a full service program with on-site consultations, menu planning, forecasting, equipment, and installation/servicing.
Customer Support
From quality coffee to quality experiences, we're here to service your coffee program from the ground up - and to make sure it remains a success!
Fill out the form below to get in touch 👋